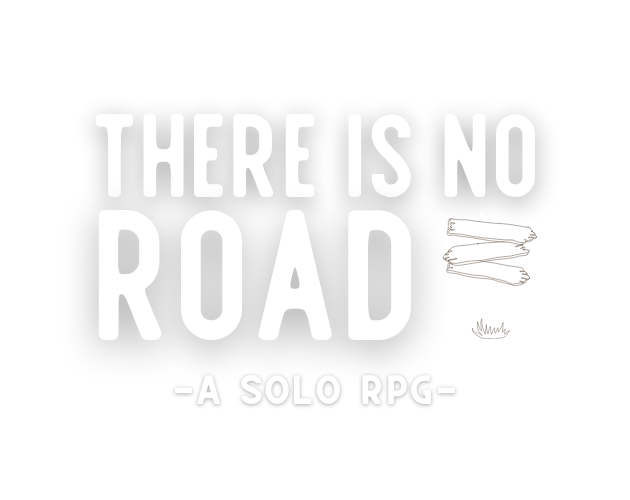 There is No Road
THE GAME
There is No Road is a reflective journaling game designed as a final project for the Introduction to Spiritual and Personal Formation course at United Theological Seminary of the Twin Cities. In this game you take on the role of a person who has set out on a pilgrimage to a site they deem sacred. Your character has set on this journey knowing that it will be a difficult and arduous task from which they will not return home from. On this pilgrimage you will encounter six stops along the way that will offer you reflective prompts for journal entries that center on the Six Key Qualities for Spiritual and Personal Formation. You can read more about these six key qualities in the final pages of this book.
There is No Road is a religious/spiritually agnostic game and setting. You do not need to belong to any particular religious or spiritual tradition (if at all) to play this game. In this game it is recommended that you actually leave behind some of your specific religious imagery so that you can fully enter into the world of your character.
THE STORY
This is your story. You are crafting it with every journal entry you make. It is up to you to craft this world by answering the prompts in whatever way you see fit. Maybe you are making this journey at the end of your life. Maybe you are a recent convert to this new found faith and have decided to take on this pilgrimage now rather than later. The contours of this religion/spiritual journey can only be defined by you. Your motivations, and desires are yours. The prompts are merely signposts along the way for whatever journey you have imagined for your character.

In this story there are only two absolutes:
1. You are on a religious/spiritual journey.
2. You will not return home at the end of this journey.
The world your character inhabits, the nature of their faith, the specifics of their journey are yours to decide. What happens in between these two guideposts will unfold differently for each person playing this game. You have freedom here to explore new worlds, meanings, and ideas. There are no right or wrong ways to play because there is no set road before you. The road you are on can only be made by walking it.

WHAT YOU NEED TO PLAY
To play There is No Road all you need is this game book, a single six-sided dice (optional), and something to record your journal entries in. This could be done with pen and paper or in a digital document. Whatever you prefer will work.
Purchase
In order to download this game you must purchase it at or above the minimum price of $5 USD. You will get access to the following files:
There is No Road.pdf
15 MB
Community Copies
Support this game at or above a special price point to receive something exclusive.
Community Copy
Claim a free copy if you are of a marginalized identity, in need, or just don't have the money right now.