De/Fragmentation
De/Fragmentation is a deeply reflective and existential solo-journaling game that explores how memories shape us through the theme of memory loss for Kickstarter's 2023 Make / 100 event!

De/Fragmentation is a 36-card game packaged in a fully designed hook-box with all the rules printed on its fold-out panels. The only additional items necessary to play De/Fragmentation are a single six-sided dice and your preferred medium for journaling (e.g., pencil and paper, voice recording, digital, etc.)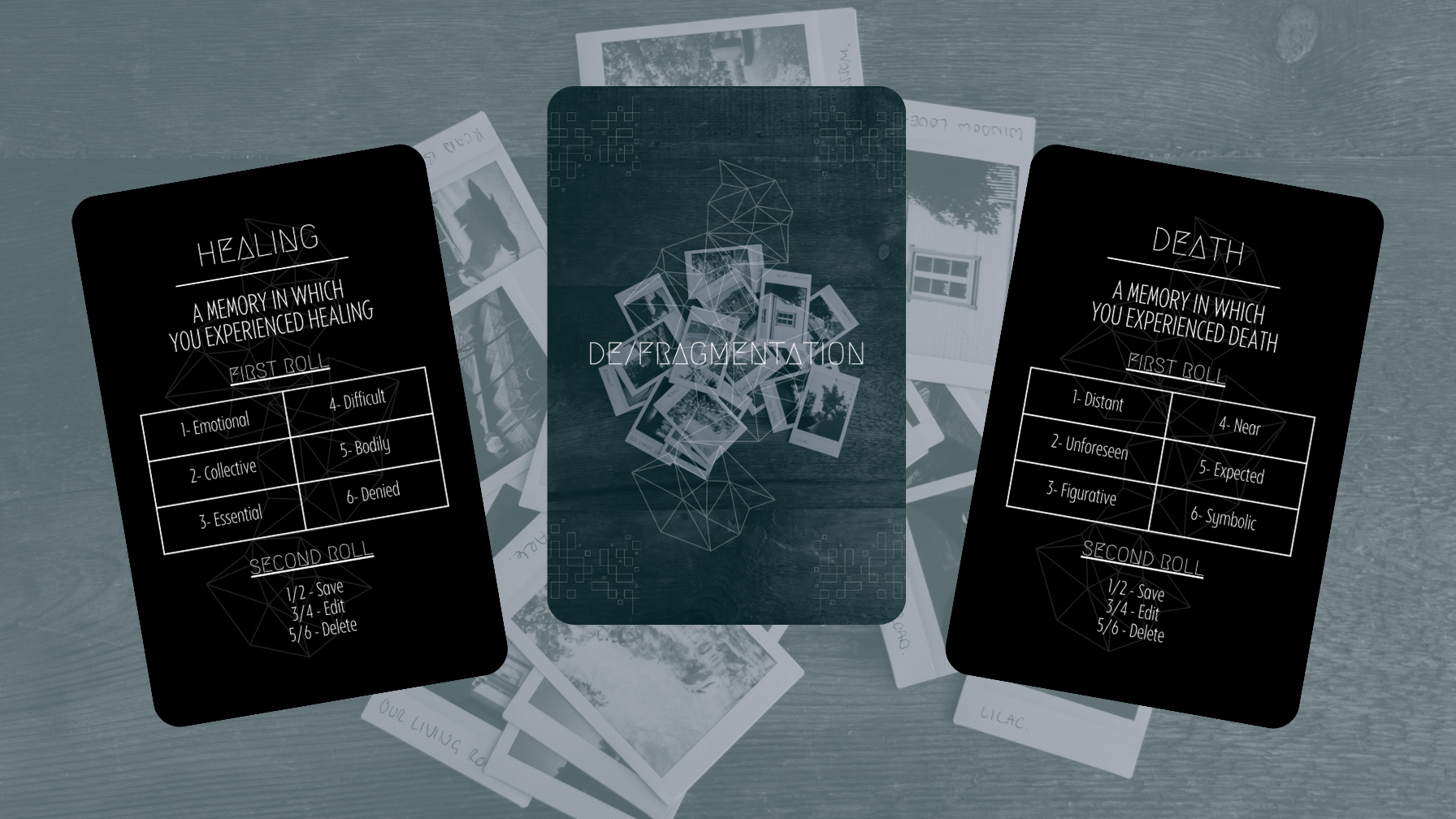 In De/Fragmentation you take on the role of an android on the cusp of fragmentation and total system failure. Like many other automatons in this post-humanity world you lack the ability or means to acquire the upgrades needed to prevent you from succumbing to the effects of obsolescence. In an effort to curb this inevitable fragmentation you are now forced to sort through core memories choosing which ones to Save, Edit, or Delete. In resisting the fragmentation that leads to system failure you risk experiencing a different form of fragmentation that leaves you unsure that you will even recognize yourself at the end of this process.

HOW TO PLAY

Gameplay in De/Fragmentation is super simple and straightforward with each card representing a core memory that you will explore and write a journal entry about.
THE FLOW OF PLAY
Roll a dice (d6) 3x taking the two highest numbers to determine the amount of cards you will draw during game play.
Draw a single memory card from the deck.
Roll a d6 on the 1st table to determine aspects of the memory.
Roll a d6 on the 2nd table to determine the memory's outcome (Saved, Edited, Deleted).
Write a journal entry about the memory, its outcome, and any resulting effects.
Repeat until you have written as many journal entries as the number determined in step one.
MEMORY OUTCOMES
A Saved Memory is one that you chose to recover regardless of the negative effects it may have on your personality.
An Edited Memoryis one that is partially saved and partially deleted. Aspects of this memory are lost, but the core remains.
A Deleted Memory is one that is permanently erased regardless of the negative effects it may have on your personality.

The digital files include everything you need to play De/Fragmentationon on the digital tabletop platform playingcards.io, along with easy instructions on how to import the files onto their platform.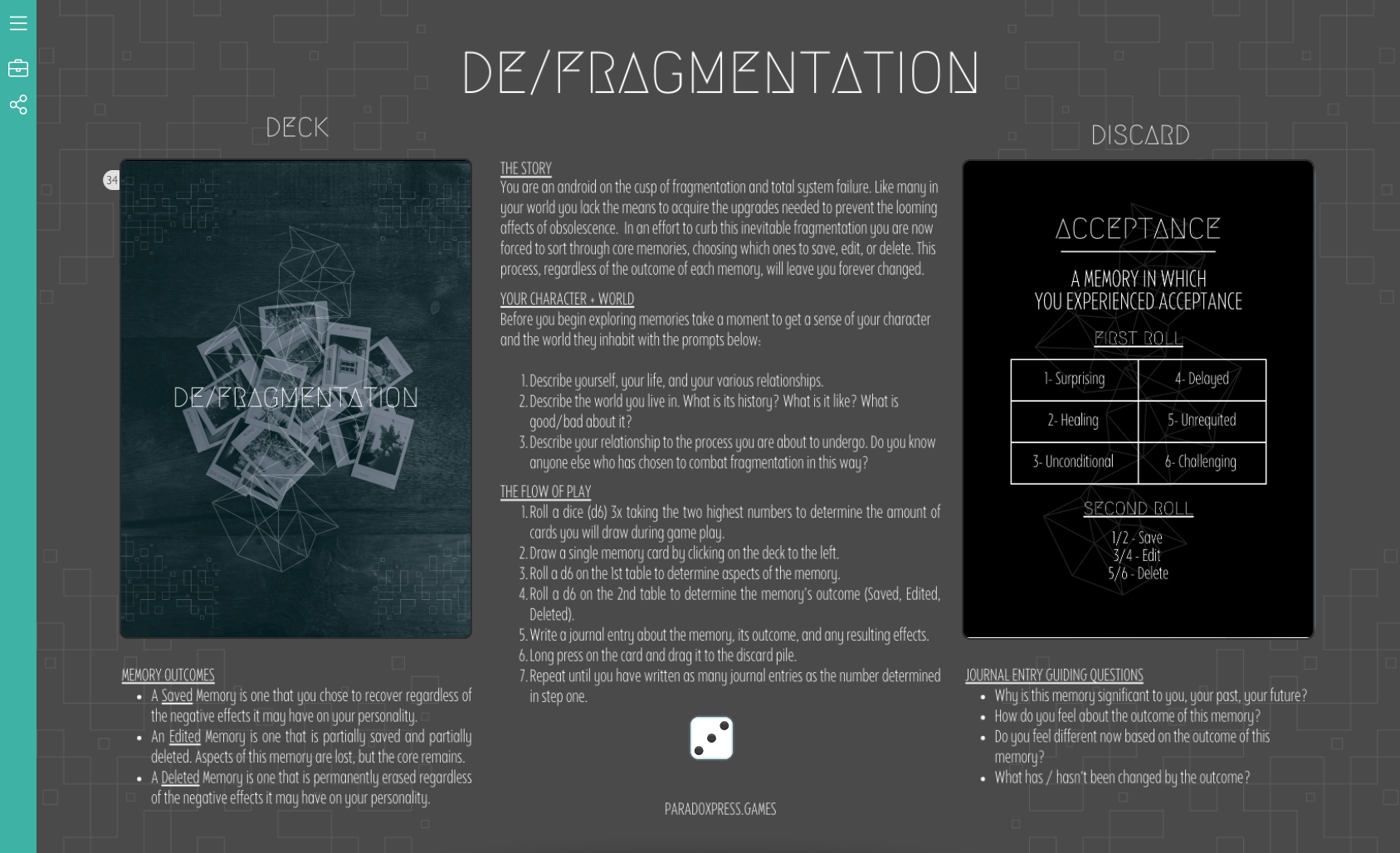 Physical Print Edition

- $20

36 cards in a hook-box with rules printed on the inside delivered to your mailbox!

Purchase
In order to download this game you must purchase it at or above the minimum price of $15 USD. You will get access to the following files:
Defrag playingcardsio instructions.png
1 MB
Defrag Virtual tabletop.pcio
3 MB
Full color pnp sheets.pdf
6 MB
Printer friendly pnp sheets.pdf
Community / Press Copies
Support this game at or above a special price point to receive something exclusive.
Press / Review Copies
Claim a free copy of De/Fragmentation if you are a podcaster, blogger, YouTuber, TikToker or streamer who would like to play the game and review it!
Community Copies
Claim a free copy of De/Fragmentation if you are in need, don't have the money right now, or just because f#ck capitalism! Every time someone purchases a copy we will add 1 more community copy to the pool.